Expert in electric batteries :
100% French savoir-faire since 2014
Battery reconditioning
in our workshop in Lyon
Reactive customer service
by e-mail, telephone or online chat
Payment facilities :
pay in several instalments free of charge
Repair, reconditioning and sale of electric bicycle batteries
Doctibike is the French expert in electric mobility batteries: scooters, bikes, scooters and electric motorbikes.
Our core business is the diagnosis and repair of bicycle batteries and reconditioning of e-mobility batteries:
Every year, our team of enthusiastic technicians brings over 20,000 batteries back to life! You can also buy your new electric battery from one of the major brands on our website, as well as your charger and spare parts. 
Products compatible with

The leading brands​





Why should I choose
Doctibike ?
Since 2014, Doctibike has been developing its knowledge of electronics and its know-how to offer you the best possible battery repair service. Now made up of around twenty people, the Doctibike team is committed on a daily basis to making electric mobility more eco-responsible, in France and in Europe. 
To provide you with the best possible solution for restoring your electric bike battery, we only use energy cells from leading brands (Panasonic or LG) and we test each battery with our Doctibike tester in our workshop in Lyon. Our mission is to extend the life of your battery so that you can enjoy your electric two-wheeler for longer.
By choosing this solution, which is more resource-efficient than producing new batteries, you're reducing your environmental impact! All out-of-service batteries are recycled by Screlec, our eco-organisation partner specialising in the processing of lithium-ion batteries. 
Innovation, listening and a sense of service are fundamental values for our employees. For personalised advice, contact our expert advisers via online chat, email or telephone. When you buy a product or service from Doctibike, you benefit from a 2-year guarantee and a dedicated after-sales service for your questions or returns.
Create your professional customer account and take advantage of special prices all year round! Other unique benefits await you, so join us now!
Doctibike
LEADER IN BATTERY RECONDITIONING​
Doctibike is the French leader in electric mobility battery services. Originally specialists in electric bike battery repairs, we now also repair batteries for scooters and electric motorbikes. Our team of passionate cycle technicians diagnose your batteries every day to establish their state of health, identify any malfunctions and offer you the best solution for getting back to enjoying your electric two-wheeler: repair or reconditioning. 
Have you lost range and are you riding for less time despite having a fully charged battery? Reconditioning is your best option: Doctibike refurbishes your lithium-ion battery and lets you cover more kilometres with your electric bike.
If your electric battery is beyond repair, we can replace it as new by selecting the model compatible with your two-wheeler from among our major bicycle brands (Feu vert, Matra, Flyer, etc.) and our online manufacturers (TransX, Shimano, BMZ, etc.). Our online catalogue regularly includes new products: enjoy your electric bike, scooter or scooter again thanks to our replacement solutions!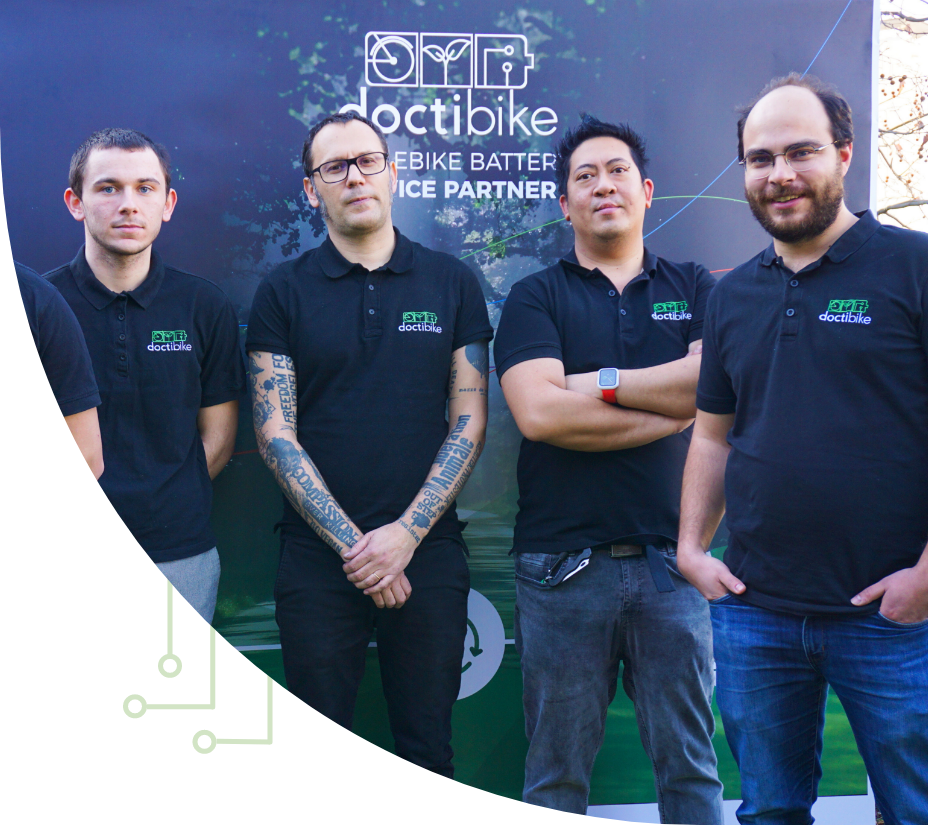 Testimonies
THEY PLACE THEIR TRUST IN US​
A superb service and an excellent professional relationship for 4 years now. Doctibike helps to extend the life of our products through reconditioning. Vélo Horizon recommends Doctibike's services!
The products offered by Doctibike are of high quality: we have good customer feedback.
Internet order received quickly in a well-protected parcel. Cordial and efficient email exchanges. I can only recommend them!
Thank you to the whole Doctibike team! You were quick to listen and efficient. Big up to the technical team, who rearranged their schedule to meet our needs as best they could.
I currently buy my chargers and batteries from doctibike, so you can go there with your eyes shut!
Discover our
Bicycle tips and news​