Doctibike is a French start-up with a team of enthusiasts specialising in electric batteries for active, soft and sustainable mobility. 
Our core business? The repair and reconditioning of lithium-ion batteries, which equip the majority of electrically assisted vehicles such as scooters, bikes, scooters and electric motorbikes. Thanks to our expertise, we save around 20,000 electric bikes and scooters from the landfill every year! Because while cyclists keep their bikes for an average of 13 years, the lifespan of a battery is only around 4 years... 
Every day, our technicians check the general state of health of the batteries, carry out the minor repairs needed to keep them working properly, or refurbish them by replacing the energy cells inside.
Doctibike also offers two-wheeler users the chance to replace their battery with a new one, or buy a new charger or bike accessories.
More than 2,500 products are available in our online shop, selected from the biggest brands: Impulse, Bosch, Yamaha, Panasonic, Shimano... and many others!  Our product catalogue is constantly expanding to meet the needs of electric mobility users.
Diagnosis and reconditioning of your electric bicycle battery
With Doctibike's multi-brand battery tester, our technicians diagnose your battery and establish its general state of health. Thanks to a detailed report, you have all the information you need to decide whether to have your battery repaired or reconditioned! Reconditioning is a cheaper and more environmentally friendly alternative to buying new.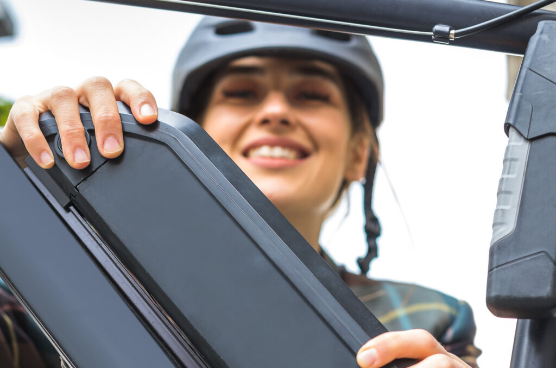 A complete range of new replacement batteries
Is your battery beyond repair? Opt for a new replacement: find the right battery for your electric two-wheeler in our online catalogue. We've listed all the major brands of electric-assist bicycles (Arcade, BH Bikes, Giant, etc.) as well as the leading manufacturers in the electric mobility sector.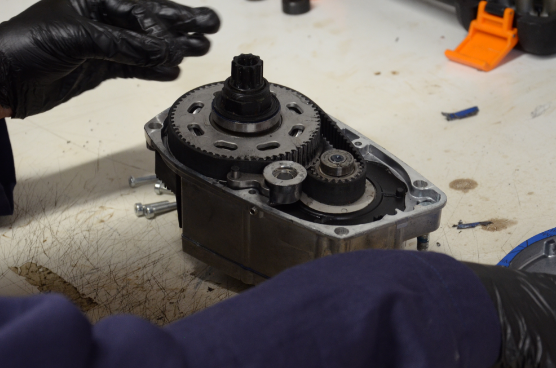 Chargers and spare parts for your electric bike
Renew your electric bike charger easily with our compatible multi-brand chargers. You'll also find all the spare parts and accessories you need to repair your electric bike.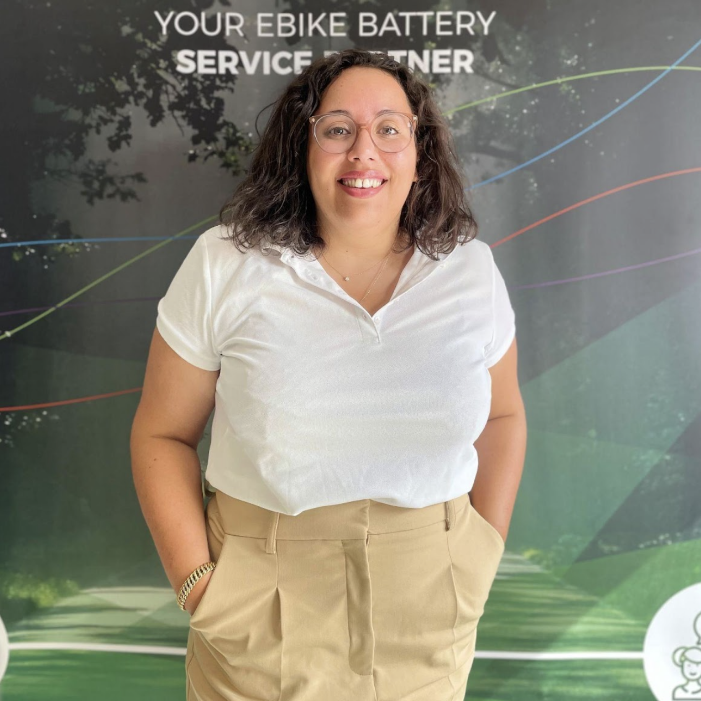 "My passion for mobility comes from my childhood, thanks to my father, who specialised in importing bicycle parts. I followed him everywhere in his daily life as a company director and visited cycle factories from the age of 14.
In 2014, I took my turn in the entrepreneurial adventure by creating Doctibike. At last, electric bike users are offered an innovative and eco-responsible solution for repairing, reconditioning or replacing their electric battery.
Doctibike's expertise is now recognised throughout France. We are now continuing our efforts to make electric mobility more sustainable at European level, by rolling out our services in neighbouring countries." 
Anne-Sophie Caistiker, fondatrice de Doctibike
Don't throw away your electrically-assisted two-wheeler because the battery no longer works! Our mission is to provide you with practical solutions to give your battery a second life and make electric mobility more sustainable.
Respect for the environment
Having your battery reconditioned means you can extend its lifespan and avoid having to manufacture and buy back a new product, which consumes a lot of raw materials. It also promotes the use of active mobility devices (which are better for your health) and eco-responsible (emitting much less CO2 than a combustion engine).
Used energy cells and non-repairable batteries are duly recycled thanks to our partner Screlec: the eco-organisation specialising in the recycling of batteries is responsible for recycling and processing part of the lithium for reuse, to avoid any unnecessary waste.
Doctibike is above all a team of people who are passionate about mobility! All our staff are trained to give the best possible advice to cycle users, whether they are private individuals or professionals: we successfully combine customer service that listens to your needs with a technical service that is constantly looking to innovate.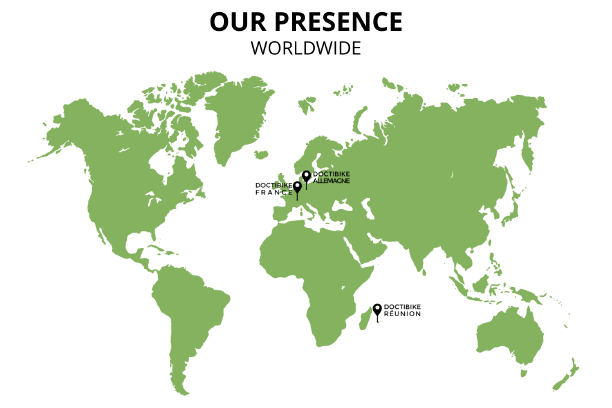 Doctibike France
Our head office is located in Villeurbanne, part of the Lyon metropolitan area. We do not welcome customers to our premises. All our products and services are available on our online shop doctibike.com. However, it is possible to collect your order: this option is offered to you when you confirm your order online.
Doctibike Germany
At the end of 2021, Doctibike opened an office in Germany. In the city of Frankfurt, we're close to major manufacturers in the mobility sector, as well as Europe's biggest bicycle trade fair, "Eurobike", where we've been exhibiting for four years running.
Doctibike Reunion Island
Doctibike's expertise is also available on Reunion Island! Since 2019, our franchisee, William, has been welcoming you to his shop and repairing your battery, in a heavenly setting just 200m from the beach.